Stone Free 2016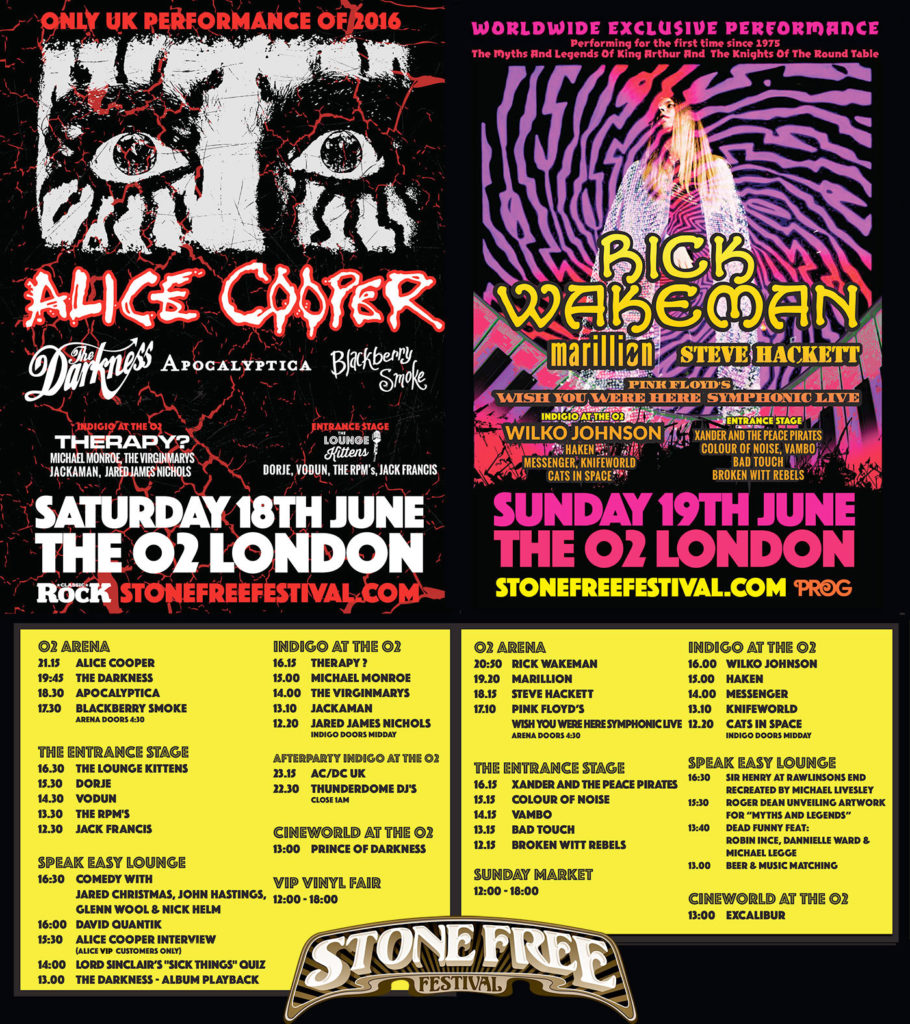 A festival of classic rock for true rock fans with the odd piece of pantomime chaos and the occasional contemplative moment thrown in for good measure. This was Stone Free Festival 2016 and the blueprint for the event going forward.
On day one Alice Cooper delivered his trademark visual carnival of carnage, featuring live snakes, fake monsters, explosions, beheadings, evil nurses and a two-headed baby against a soundtrack of hits everyone can singalong to. Day two, meanwhile, brought a worldwide exclusive that hadn't been witnessed since 1975 in the form of Rick Wakeman's performance of The Myths And Legends Of King Arthur And The Knights Of The Round Table.
Elsewhere, Marillion seemed to be almost playing to an entire crowd of people adorned with their t-shirts as they emotionally tore through fan favourites. Therapy? took us back to the 90's with a powerful set of their hits, while The Darkness also rolled back the years and put on the sort of show that had hardcore Darkness fans saying it was the best live performance they'd seen from the band in a long time.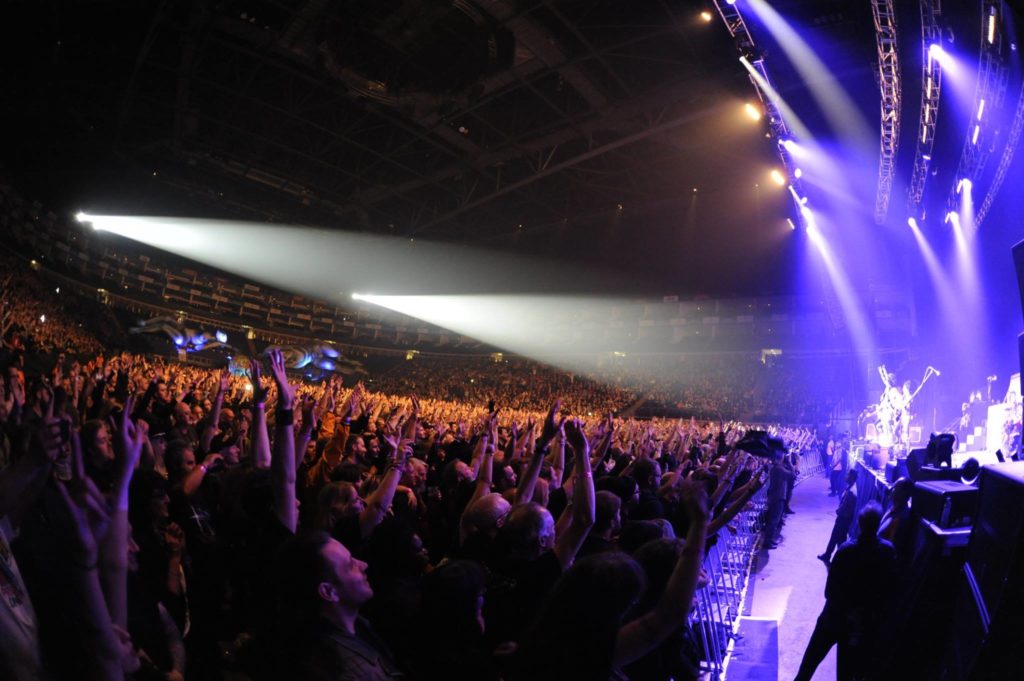 There were quieter moments too. Close your eyes when you listen to Blackberry Smoke and you're transported back to the 1970s, no longer in the o2 Arena with a crowd waving smartphones (although there was a lot less of this sort of activity at Stone Free), but in a field somewhere long before the internet was invented.
Pink Floyd's Symphonic Live brought an orchestral nuance to proceedings and this wasn't the only classical performance with a twist. At first conception, three cellists and a drummer predominantly playing Metallica sounds like the sort of novelty act that might play on Covent Garden's piazza in between a juggling man on a unicycle and a contortionist who makes balloon animals. But that is nothing like the virtuoso performance Apocalyptica deliver. Their set like others on the bill provided a real spectacle.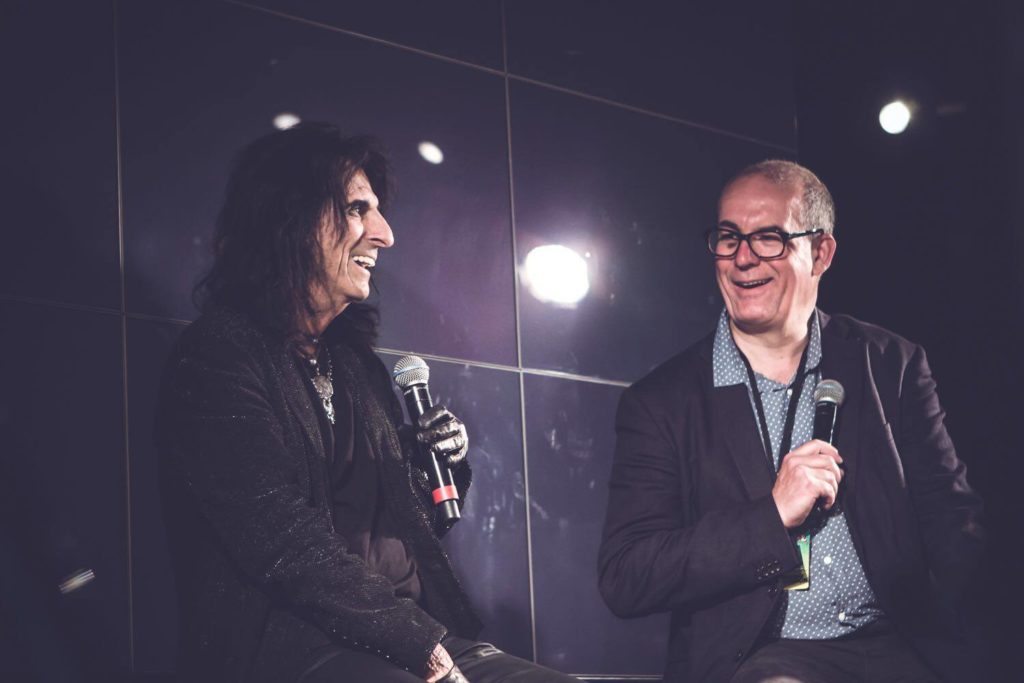 Away from the main stage there was a busy vinyl fair, a classic rock market and Prince of Darkness and Excalibur screening at Cineworld. With a total of 12 hours of music packed into each day The Fireball Stage and Indigo provided a showcase to another 20 acts or so, which offered a real mix including body-painted voodoo loons, Voun, former Hanoi Rocks frontman Michael Monroe and psychedelic eight-piece Knifeworld, and oddball newcomers Teeth Of The Sea. Over in the Speakeasy Lounge Rick Wakeman, Alice Cooper, The Darkness and others gave Q&As, between live comedy sets and 'beer and music matching' sessions.
But, of course, it was the music that the majority came for. Stone Free was a weekend where hard rock rubbed shoulders with prog rock and a bunch of classic rock fans left a festival with large smiles on their faces
"The inaugural Stone Free Festival was a resounding success."
Daily Express
"It's a rock festival, Jim, but not as we know it."
Team Rock
"Stone Free was brilliant"
Louder Than War